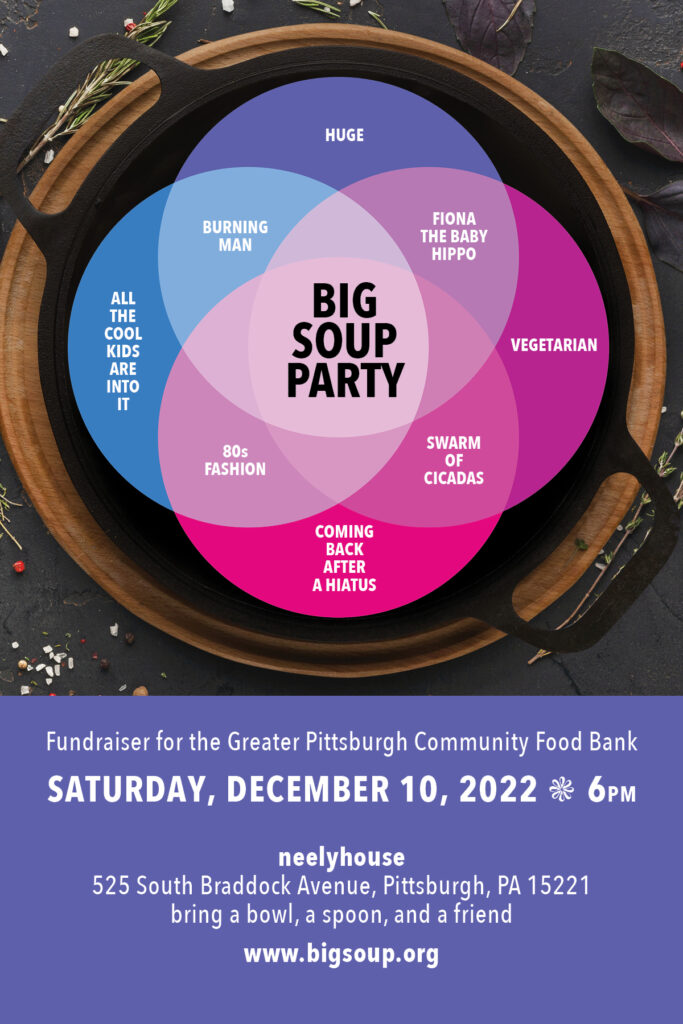 Join us for the Annual Big Soup Party • December 10, 2022
BIG SOUP IS BACK! The Big Soup Party is our yearly excuse to call up our friends, break bread, and share some BIG SOUP for an evening. Restarting after three years of COVID distancing, we are hoping that our vaccinated friends might consider their level of comfort with crowds and help us raise some money for the food bank. 
The event starts at 6:00 p.m., and we serve SOUP late into the night. Come at any time. Please bring a bowl, a spoon, and a friend. Awards are given around 8 p.m. for the biggest spoon used, most original bowl, and furthest distance traveled. Be forewarned; competition for these coveted prizes is fierce! Plan early if you wish to compete.
The primary goal of the evening is to hit up our friends to raise some BIG money for the Greater Pittsburgh Community Food Bank. There will be a large bowl on the main table to collect cash and checks—made payable to the Greater Pittsburgh Community Food Bank (GPCFB) — from anyone willing to contribute. You can also use this link stephenmelissaneelyvirtualfooddrive2022 and donate online! Thank you in advance for your generosity. 
2019 Kitchen time-lapse video
Many Many Thanks to everyone who attended the 2019 Big Soup Party and donated to the Greater Pittsburgh Community Food Bank! About 185 people attended and donated just over $6,000 in one evening. 
"Last year, the Food Bank distributed more than 33 million meals in [their] 11-county service area." We hope everyone will click on the link and make another donation to support our neighbors in need.  https://www.pittsburghfoodbank.org/what-we-do/how-we-work/
The evening was a blast, the soup was hot and tasty, and the friends were warm and generous. Thank you all for being in our lives and for continuing to support the GPCFB. We will see you next year on December 12, 2020!
Thanks to CT, Ralphie & Missie, Laurel, Alex, Clayton & Valerie, Kim, and Brian & Will for cooking the soups, to Donna and Earl for cooking sides and decorating, to Nick Vargas for being the bigsoup photographer, and to Juddson & Samantha, Ralphie & Missie, Laurel, Alex, Liam and Quinn for all of the clean up help! 
2019 Friday Making the Soup
Can I bring soup?
No. We will have 6 VERY LARGE pots of homemade vegan/vegetarian soups. Plus a Chocolate Dessert Soup. Plenty for the whole crowd. We make 50 gallons of soup!
What can I bring? 
You would be welcome to bring a side dish, dessert, appetizer, beer, a bottle of wine, soda, or cookies…yes, we appreciate anything you bring… it is a lot of people to feed!
Where can I park?
Here are the legal places to park around the Neelyhouse, including Waverly Church.
Does it cost anything?
There is absolutely NO charge to attend the big Soup party, and no one should feel required to make a donation via our big bowl. We would like to encourage everyone to consider the tremendous wealth that we all live in and give serious thought to donating to help those less fortunate.
2022 – TBD
2021 – Pandemic
2020 – Pandemic
2019 you raised $6,000+
2018 you raised $4,000+
2017 you raised $4,500+
2016 you raised $4,000
2015 you raised $4,167
2014 you raised $2,820
2013 you raised $4,012
2012 you raised $3,762
2011 you raised $3,000
2010 you raised $2,230
(consider a donation of $5 – $20+ a person) for the Food Bank. Come, eat, drink, enjoy the fun, AND bring cash/check to support a good cause! or give here: https://secure.qgiv.com/event/stephenmelissaneelyvirtualfooddrive2022/
Where do I put my donation to the Food Bank?
There will be a large vase on the main table to collect cash and checks made payable to the Greater Pittsburgh Community Food Bank (GPCFB). 100% of the money collected will be given to the Food Bank.
When should I arrive?
The party has a revolving crowd. Some people like to come early and leave early, others come late and stay late, and there is a soup-fanatic crowd who arrive at the beginning and don't leave until well after midnight. We love you all. This year we have decided to start a little earlier than in years past, at 6:00 PM.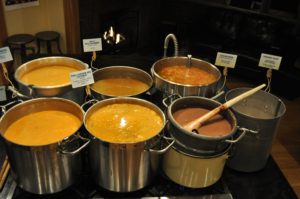 Holiday Issue 2015
Soul Food Battling Hunger in Many Ways